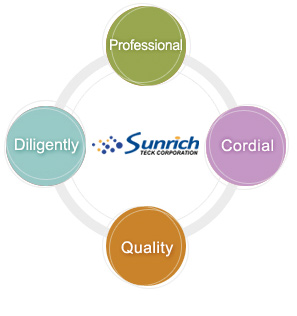 Sun-Rich was established in Jan 2012, Sun-Rich specializes in sales and service of semi-conducting electronic components manufactured more by more than Europe and U.S.A manufacturers around the world, The key market is focus on IPC.DVR.NAS..until a popular solar energy of product, Sun-Rich is best partner for OEM purchasing, we are know the pricing and L/T is important for OEM market, so we provide the long-term save stocks service to you.
Sun-Rich have a strong professional management team, the experience and quality of professional managers are among the forefront in the electronic market . In addition, the technical team composed of professional application engineers and R & D engineers is the guarantee of professional and technical support, provide technical support, professional services and integrated solutions for customers, in order to create higher added value.
In order to provide service to clients operating in the Asia Pacific region, SUN-RICH had also established distribution centers in Taipei and Asia Pacific, SUN-RICH will continue its quest to improve service quality and to provide our clients "A+ Service" and also to provide services wherever clients are.
We focus on staff pre-service training, as well as regular courses in order to facilitate their professional knowledge, the operating principles is staff unity and cohesion , Sun-Rich group can be growing fast together and sustainable management.